The recruitment platform with worldwide video flash meetings
From May 3rd to 5th, Speed Recruiting, the recruitment event organized by STSA and the University of Geneva for commodity trading companies and candidates from all over the world for the Master of Science in Commodity Trading, will take place, as it has for the past 10 years.
Registration for companies closes next week, while candidate profiles are already pouring in.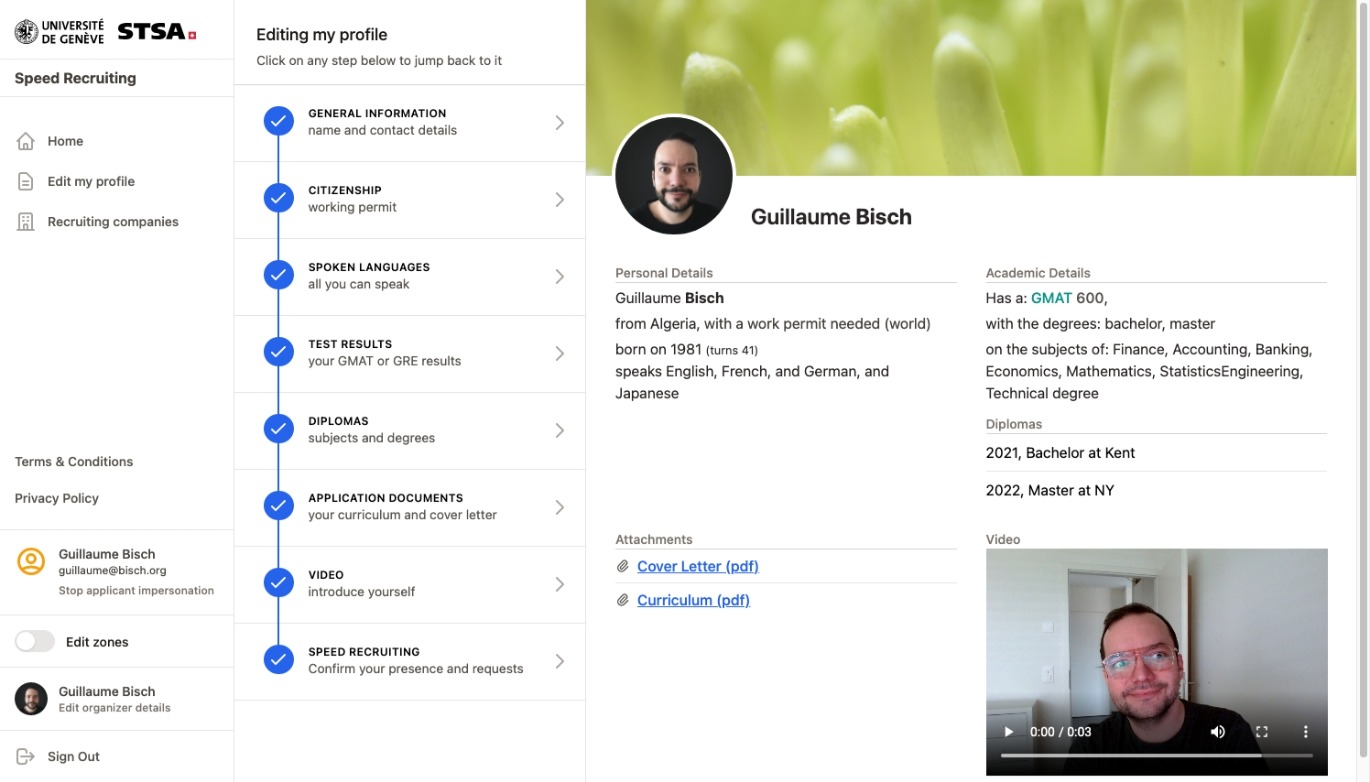 Since 2012, SQRD has progressively provided the tools to schedule 1,000 flash meetings per year, the application to collect candidate profiles and the recruiter app.
The entire process - from contact, through candidate preselection, optimized scheduling of appointments and up to the interviews - is managed by a backoffice based on the web and mobile technologies of Firebase and Vue.JS.
This choice of technical architecture allows, among other things, a continuous refresh of the participants' screens, which allowed SQRD in 2021 to support an event conducted entirely online. Candidates were able to video conference with recruiters from their Internet browsers or mobile phones, with no software to install.
This year, more than 100 candidates and more than 16 major companies are expected to attend.
SQRD is honored to bring its technical contribution to this long-term partnership.
---
Version française
Du 3 au 5 Mai se déroulera, comme depuis 10 ans, le Speed Recruiting, l'événement de recrutement organisé par STSA et l'Université de Genève à destinations des entreprises de l'échange de commodité et des candidats provenant du monde entier au Master of Science in Commodity Trading.
L'inscription des entreprises se termine la semaine prochaine, tandis que les profils des candidats affluent déjà.
Depuis 2012, SQRD a fourni progressivement les outils de planification d'un millier de meetings flash par année, l'application de collecte des profils des candidats et l'applicatif recruteurs.
L'ensemble du processus - des prises de contact, en passant par la présélection des candidats, la planification optimisée des rendez-vous et jusqu'aux entretiens - est géré par un backoffice appuyé sur les technologies web et mobile de Firebase et de Vue.JS.
Ce choix d'architecture technique permet, entre autres, un rafraichissement continu des écrans des participants, ce qui a permis à SQRD en 2021 de soutenir un événement entièrement conduit en ligne. Les candidats s'entretenaient en visioconférence avec les recruteurs depuis leurs navigateurs Internet ou depuis leur téléphone portable, sans logiciel à installer.
Cette année, plus d'une centaine de candidats et plus d'une quinzaine d'entreprises majeures sont attendus.
SQRD est honorée d'apporter sa contribution technique, ce partenariat au long cours.